Idea & Invention Services
Your Ideas May be Worth Money
Business Startup and Management Consulting
NOTE: after reading the text below, be sure to scroll down to see lots of sample products and testimonials!
Boy, this is fun stuff!  At the Riordan Company, we get to see different ideas for different types of products on a continuing basis.  Referrals come to us from clients and patent attorneys as well.  Whether it is a novelty item, gag gift or complex piece of medical equipment, we've seen it all.  We remain on the leading edge of new product development and get to see lots of exciting new products before they hit the stores. 
Whether you are an individual going to market with a new product or a corporate entity with years of product sales experience if you have a product to sell, we can help you identify, target and reach your customers with a guerilla style that will make you grin.  Guaranteed!  For over two decades we have helped our clients to identify markets they never considered, and then helped them to target, reach and "hook" those markets in ways that they had not considered. 
We'll help you sell your ideas or patents for one lump sum
There are a number of creative ways to sell ideas and patents.  You can sell an idea outright for a dollar amount that is agreeable to both you and the buyer. 
When you are inventing for a living, every idea that you think of should be considered a salable commodity.  For example, an idea for a good joke is not an invention, but it can still be a saleable commodity. 
If you have a patent application pending we can help you sell it in the pending stage.  If your patent has already issued, we can help you sell it outright for a mutually agreeable lump sum. 
We'll help you make money through consulting contracts
Perhaps one of our most creative methods of helping you make money from your ideas is to help you win consulting contracts with companies interested in your technology or products.  If inventing for a living is what you want to do, be prepared to get paid in a number of different and creative ways.  Consulting contracts are a great way to make money from your ideas. 
We'll help you license, lease or cross-license your ideas or patents
I know you have heard of licensing patents, but have you heard of licensing ideas?  It's all in the way the agreement is written and the agreement can be written in any manner acceptable to the inventor and the buyer. 
How about leasing your idea or leasing your patent?  This is a very creative solution for an entity that wants to market your product but is not certain that the sell-through rate will be substantial enough for them to make a long term commitment.  Rather than purchasing your idea or patent or getting tied into a "life-of-the-product" licensing agreement, buyers can lease your idea or patent for a limited term and "give it a test drive."  
Cross licensing is a great solution when you have an idea that a company wants to license and the company has ideas or products that you wish to incorporate into one of your products or product lines.  You get what you want, they get what they want and no one has to pay licensing fees. 
We'll help you present your idea or product to potential buyers
Our twenty-five plus years of experience in helping individual inventors sell their ideas and products to industry has taught us that there are some corporations that prefer to have ideas and products presented to them by third party professionals.  Why?  Because they have had bad experiences with inventors who have unrealistic expectations about the value of their idea or product, or they have had bad experiences with inventors who want to exercise unreasonable control over the appearance, production or marketing of the final product.  If you have a good idea or product, we may be able to open doors that previously seemed closed to you.  We are not afraid!  As professional product evaluators we will be happy to "toot your horn" for you.  Because we are professional product evaluators, when we tell a corporate decision maker that we think this idea or product is a good match for their company, they listen. 
Our company has established contacts within many major corporations and we are often able to pick up the phone and get straight through to decision makers without getting bogged down in the normal invention submission process. 
We'll help you sell your products direct to consumers
The opportunities for you to sell your products directly to consumers has never been better.  For the inventrepreneur, these sales are almost always the most lucrative per-unit way to distribute your products, because you are able to keep both the manufacturer/owner's markup, plus the retail store's markup.  Mail order sales can easily be done from most homes or small businesses.  Weekend bazaars, fairs, festivals, flea markets and garage sales are excellent ways to get started. 
The Internet offers inventors a whole new world of opportunity with a broad range of effective marketing tools from the simplest "static page" sites all the way up to sophisticated interactive sites with full e-commerce functions that can make you money around the clock, even when you are sleeping!  And, with its explosive growth rate due to increased use of computers and the internet in our school systems, government agencies, large corporations and small businesses, the opportunities to market your products directly to consumers over the internet is growing by leaps and bounds each day.  We will help you get a website for your product on line.  We will help you develop an email marketing methodology that works for your product and puts your products directly in front of the people most likely to purchase them. 
We'll help you sell your products through distribution channels
Mail order catalog houses
such as Spencer Gift, Joan Cook, Harriet Carter, the Chef's Catalog, Sporty's Pilot Shop, the Sharper Image, the Right Start baby catalog, Brookstone, Coach House, J.C.  Whitney, L.L.Bean, and literally hundreds more are always looking for new and exciting products and we know how to get the attention and interest of their buyers.  Oh and by the way, once a product demonstrates sell through, they often buy in lots of 20,000 to 100,000 pieces at one time!  Don't you hate it when that happens?  
Chain stores
including department stores, toy stores, home supply stores, gift stores, specialty stores, office products stores etc. are excellent distribution channels. There are literally stores for every product.  These stores are always on the lookout for great new products.  If the product "sells through," you can expect volumes of orders to increase in direct proportion.  We like that. 
We'll help you get publicity
Maximum publicity at minimum cost is always our goal.  A robust public relations blitz is a must whether you sell direct to consumers or through distribution channels.  We will show you how to launch your product with a barrage of free press to expedite product and brand name recognition.  Our press releases have excellent submission-to-placement ratios because we know how to tell your story in a way that becomes interesting enough to be newsworthy to the target audience of any given publication. 
New product launch support
At the Riordan Company you can always expect personal attention, focused on your needs.  We provide a full-spectrum of product launch support services including:
| | |
| --- | --- |
| • | Collateral or sales material graphic design |
| • | Logo designs |
| • | Copywriting |
| • | Public relations services, press releases and publicity events |
| • | Packaging design |
| • | Point of purchase displays |
| • | Help setting up fulfillment centers |
| • | Help with the selection, planning and staffing of trade shows and conventions |
| • | General management consulting for startups |
| • | Help finding funding sources for your marketing efforts |
If all you seek is a second opinion on a marketing concept or plan that is already in place, we will be happy to oblige, satisfaction guaranteed!  
To get the most from your first session with us, write down every question you have about your idea and your options before our meeting and we will give you more valuable information in less time than anyone you have contacted.  We guarantee it!  You must be satisfied before you pay.  We will work with you in person, on the phone, by fax or email depending upon the security level necessary for your project. 
Please see
Our Guarantee
page and our
Fees for Services
page
We think you will enjoy some of the projects and products listed below.  Please know that these are just a few of the products we have been involved with.  Many of our individual and corporate clients' success stories are not listed here because they wish to remain anonymous.  We always honor their wishes. 
---
Testimonial from a well known patent attorney
For many years, Tom Lampe was the chief "idea evaluator" for Eastman Kodak Company.  If you submitted an idea to Kodak, it would be reviewed by Tom.  Since he started his private patent law practice, he has served many multinational clients such as James River Paper Company, and many individual inventors as well.  Here is what Tom has to say about our services. 
"James F. Riordan and I have had a number of mutual clients over an extended period of time.  These clients have indicated to me that they enjoyed working with Mr. Riordan and are extremely happy with services he has provided to them.  These services have included product development and invention marketing.  I have found Mr. Riordan to be honest in his dealings with clients.  He has a proven track record of bringing new products to successful commercialization.  It is unusual to find an individual such as Mr. Riordan who has both the technical skills and marketing savvy required when launching new products."
Thomas R.  Lampe
Law Offices of Bielen, Lampe & Thoeming, (925) 937-1515
---
The LadderBag™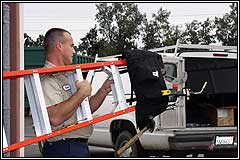 John Williams' Ladderbag
in use on the jobsite
LadderBag is, "The toolbelt your ladder wears."™ It was invented by John Williams of Grass Valley Ca. This handy specialized toolbag attaches to the top rungs of your step ladder and makes a tradesman, contractor or do-it-yourselfer's life a whole lot easier. The ladder can be turned horizontally and easily carried from place to place around a jobsite without dropping your tools or materials. John is a plumber by trade and invented the LadderBag to make his job easier and safer. Riordanco arranged to have the product tested at the largest mechanical contracting company in the U.S. and they loved it immediately. We then located an offshore supplier and John is now filling orders for LadderBags and looking forward to the first shipments of his follow-through products for use on power lifts, extension ladders and scaffolding. Riordanco helped John establish a vendor financing relationship with the supplier that allowed him to have product in hand without having to come up with up-front money out of his pocket. We helped him establish sales rep relationships that resulted in the Ladderbag being presented to Home Depot, QVC television home shopping channel and other nationwide chains, all of which like the product and present a huge potential upside for his new company, Workman Industries, Inc. The LadderBag has proven to be extremely popular in Home Depot® with sales of over 18,000 units in the first four hours of sales in the Southern California market alone. His customer list already includes Pacific Fire and Safety, one of the nation's largest suppliers of fire sprinkler equipment, Bay Tool, Acme tool, and a daily growing list of industrial supply accounts and retail accounts.
What our client says:
"Let me start by saying that my tutelage under Jim and Lynn Riordan has been one of the most eye opening experiences of my life. Since my very first meeting with them I have not stopped progressing in the pursuit of my dreams. Jim Riordan has demonstrated, regularly, the ability to get things done. He has been able to open so many doors for me it is too difficult to list them all. Jim's knowledge of the business world and the intricacies of making a "Deal" happen are unmatched. The advice Jim has given me has guided me to a place, where at this moment, I am building a promising business with a potentially very profitable future. When I first met the Riordans I was still apprehensive about showing my product to anyone for fear of someone stealing my idea. The minute Lynn answered the door and I met them I knew I was in good hands and by the time our first meeting was over I knew that the James F. Riordan Co. stood for ethics, integrity, and the American dream. I can't even begin to thank Jim and Lynn in a way that does them justice. They have shown me how to fulfill my dreams, not by doing it for me, but by keeping me going in the right direction. I feel honored to have the opportunity to write this letter. My hopes for anyone reading this letter is that you sit down with Jim and get an understanding of the Riordan Company. It could change your life."
Sincerely,
John E. Williams
President
Workman Industries, Inc
---
The Dandelion Terminator™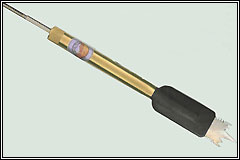 The Dandelion Terminator
Invented by Ed Reed, this great little product is easily slipped into a cordless drill and removes dandelions instantly. The tip of the Dandelion Terminator DT-100 tool is inserted into the center of the dandelion and with one quick squeeze of the trigger, the dandelion is pulled out by the roots. Slide the ejector down the shaft and the dandelion can be discarded into a bag or box for easy lawn cleanup. The Dandelion Terminator offers you a more permanent way of removing dandelions from your yard. Instead of just pulling off the tops and having them return immediately, the whole root system is removed in one quick easy motion.
What our client says:
Dear Jim,
I almost hesitate to write this letter because it may end up being a little long and I know how busy you are. When we first set the date to meet for our marketing consultation for the DLT-100, I was barely able to wait the 2 weeks that had to pass to see you. I had spent hours reading and rereading the info on your website, which is awesome by the way, so I could better understand just what was the scope of services I needed to seek from you. Actually the more I read about you, the more intimidated I became, but I knew this was something I had to do. As you know, I drove from Helena, Montana to Cameron Park, Ca. for our meeting. Some of my associates were questioning the wisdom of this decision as well as the necessity of such a venture. After driving about 8 hours through snow storms all along the way I was beginning to wonder myself. Well, I must tell you I was soon put at ease by your hospitality and your ability to disseminate all of that information to me in an organized and easy to understand way. The info you gave me about marketing was even beyond my limited imagination. I realize now that you have actually saved me from making some potentially fatal mistakes in the process of marketing my gizmo as well as some really awesome strategies that I would never have thought of. Coming out to see you was definitely one of the best moves I've made in this process so far. I just wish I had discovered your web site sooner, I know you could have saved me time and money in the development stages. If I'm ever blessed with another idea I'll be calling you right away. The drive home was just as challenging with snow and ice all the way, but I had the excitement of all the new possibilities to keep my mind occupied and the trip, though long, went quickly. I am convinced that I have gained years worth of experience in just a few hours of your time. I am really; really glad I came to see you, Jim. I'll be in touch. Add me to your list of satisfied customers-NO,WAIT-add me to your list of "RAVING FANS"!!
Respectfully Yours,
Ed Reed Pres/CEO
J C LORD CORP
HELENA, MT
---
The Electric Eel and Alien Splash Attack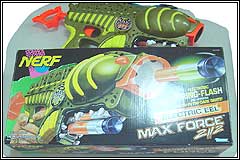 The Electric Eel laser effect
dart gun sold to Hasbro Kenner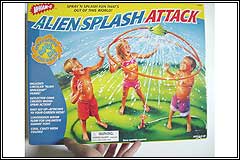 Alien Splash Attack, the latest
product on the market
from Sierra Innotek
These two fun toys were invented by Randy and Steve Palmer of Cameron Park CA.  They first came to the Riordan Company in 1993 and we are still working with them today.  We helped them form their own R&D Company and then helped them get their first products on the market.  Now, the Palmers are working on several new promising toys and devices and are inventing for a living full time.  Yahoo!  
Here is what the Palmers said in 1994
"Dear Jim:
Nineteen-ninety-four is going to be a great year for Sierra Innotek.  We want to thank you for your excellent service over the past 11 months.  When we came to you in January of last year we had only an idea and a crude prototype.  With your guidance and assistance we refined our product, honed our marketing skills and have successfully introduced ourselves and our product to industry.  We have just signed a contract to provide R&D services for over $100,000 this year, not including royalty payments for our invention.  Steve and I particularly appreciate your ability to identify opportunities and set clear directions.  By encouraging us to carefully think through each step of our operation, we have been able to target realistic, attainable goals and expectations.  More importantly, we now have been provided with the tools (lifetime skills) to reach our goals.  We feel extremely fortunate to have learned of your services early in our work.  Without your assistance, I seriously doubt that we would have progressed this far.  We will be contacting you soon to discuss another idea we would like to take to market.  Thank again for your help."  
William R.  Palmer
Sierra Innotek, Inc. 
Here's what the Palmers said in 2003, nine years later:
"My brother, Steve, and I enjoy your magazine.  We thought you might be interested in a story about a unique individual who is one of our country's experts on taking new products to market and inventing for a living.  He lives near us in Cameron Park, California.  He has helped many inventors get their products on the market.  Jim Riordan has been inventing for a living for 25 years.  Jim helped our company get started in 1993.  He was instrumental in helping us turn one of our ideas into a research and development contract which is going stronger than ever in 2003.  Later, Jim helped us license our idea for a foam dart gun toy with a simulated laser effect to toy giant Hasbro, who sold them in Toys R Us stores throughout the country.  We think your readers would enjoy a refreshing story about this inventor who has not only done well with his own products, but has truly helped others really make money from their ideas, unlike the sham companies that promise, but never deliver.  You really should feature a story about him as an inspiration to other creative people with ideas.  Jim used to be a regular on KGO radio in San Francisco, before moving to Cameron Park.  Judging from the caller response he received on KGO, there are a lot of people who'd like to profit from their ideas.  Jim sure helped us profit from ours!  We hope you'll do a story on him.  Feel free to contact us."  
Steve and Randy Palmer
Inventors
Sierra Innotek, Inc. 
---
Sit Right Baby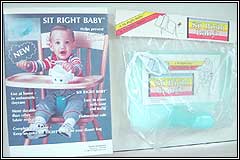 Sit-Right Baby device holds infants
upright in high chair
Invented by Terry Cheney, a long-time rice farmer from Yuba City, CA, this simple yet highly effective device made it easy for moms to keep young babies upright in their high chairs during meal times.  We helped Terry finalize the design, locate a plastic injection molder who would make, package, stock and ship the product and then helped him market it.  Millions of dollars worth of the product have been sold since, allowing Terry to own the airplane he always wanted along with many other things he had only dreamed about before. 
What our client said:
"In or about 1987, I went to James F.  Riordan company for help with my invention, a device to help hold babies upright in their highchairs.  At that time I had only a rough proof of concept model.  Jim Riordan helped me to design a finished production prototype.  He helped me with the patenting process.  He also helped me to design the plastic injection molds for the product to enable the product to release easily from the mold.  I took the product, known as the "Sit Right Baby" to a plastic injection molding shop and began production.  Jim then helped me determine the marketing strategy for the product.  To say the product is successful is an understatement.  It has sold well ever since the first production run hit the market.  Since then, Jim has helped me from time to time with all aspects of production, packaging and marketing.  Sit Right Baby was my first product and has made enough money to allow me to have more of the things I have dreamed of.  It is still making money as I write this letter.  I highly recommend the services of Jim Riordan and the James F.  Riordan Company to anyone who has an idea for a new product.  He sure helped me make money with my idea."  
Terry A.  Cheney
Sit Right Baby Products
---
Artworks With a Train Theme
Artist David Miller had a great idea for unique framed artworks which featured a raised relief "casting" taken from actual antique locomotives.  We arranged for David to get his art into one of the largest railroad museums in the country. 
What our client said:
"I want to take this opportunity to thank you for your contribution to the proposed project with the CSRR Museum.  Your marketing genius put us right 'on track'."  
David R.  Miller
Miller Images
---
The Sports Burner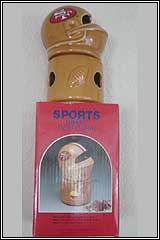 Football helmet potpourri
dish and burner
Being an avid sports fan, Kathy Waddell had an idea for a football product that appealed to female fans as well as male fans.  We helped Kathy find offshore manufacturers for the product and packaging suppliers and eased her way through the NFL approval of the Sports Burner. 
What our client said:
"Dear Jim,
Here is the finished product.  I thought you might like to see it.  I have been getting them into trade shows and selling the 49ers pots to local stores.  It's only been two months.  The two months that I have been selling the pots have been a lot of work.  I will be contacting you for more information in the near future.  Thanks again for all the help you have given to me to get this product from idea to completion.  I hope you are able to enjoy the use of the 49ers potpourri pot."  
Kathy Waddell
Sports Burners Unlimited
---
The CD Selector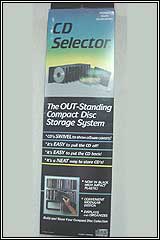 The CD selector easy
to load easy to view
Everett Fernandez and David Soberanis created the CD Selector to make it easy to find, view, remove and replace CDs.  We helped Everett and Dave with every step from concept to market.  Eventually the product line was sold to a Canadian company. 
What our client said:
"To Whom it May Concern:
Sidelines has worked with Overnight Engineering (The James F.  Riordan Company) for approximately 1 year.  Our association began when our company was attempting to bring an entirely new product to market.  We had no experience in the requirements of this project including manufacturing, marketing and distribution.  We thus enlisted the services of Jim Riordan of Overnight Engineering who was highly recommended to us.  Jim's expert advice, opinions and encouragement have proved extremely valuable and accurate.  Jim has consistently given us quick and important information and has always been concerned with the details of our project.  We have also found his methods and personality to be a pleasure to work with.  We have just successfully introduced our product to the market at the 1987 Consumer Electronics Show in Las Vegas.  We have a final product, packaging and literature.  Our manufacturing plans are in place, and we are using Jim's services in our dealings with dozens of companies.  
"We unequivocally recommend Overnight Engineering and its exceptional staff.  We have no doubt that without their outstanding assistance we would still be struggling to bring our product to market."  
Evert Fernandez
David Soberanis
Side Lines
---
Plant Jacks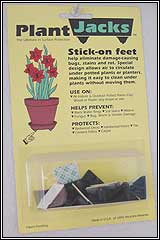 Plant Jacks, feet
that go under planters
Basil Gemette, a cabinet craftsman and woodworker extraordinaire came up with these clever feet to go under potted plants on patios.  They allow the user to hose out underneath the potted plants without picking them up.  We helped Basil design the plant jacks, line up production at an injection molding house and then helped with packaging and catalog sheet design.  A rep network was established and Plant Jacks are now sold throughout the US in home improvement centers. 
What our client said:
"Without your help I would never have gotten this product to market.  Thanks a bunch."  
Basil Gemette
Wood, Brass & Glass
---
The Vacation Plant Waterer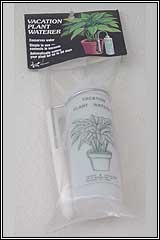 The Vacation Plant Waterer
This clever device hooks to the side of a beloved plant and waters it during extended absences such as vacations.  Return to happy plants instead of wilted ones. 
---
The Power Safe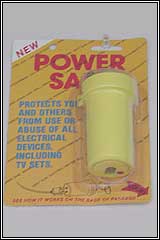 The Power Safe device for
preventing the use of
electrical products invented
by Larry Mauro, one of the
pioneers in Ultralight
aircraft design
Invented by Larry Mauro, one of the founding fathers of the ultralight aircraft sport.  Larry invented this for parents to be able to lock their kids out from watching TV while the parents were away.  It could also be used in shops and factories to keep some pieces of dangerous equipment from being plugged in by unauthorized users. 
---
H2Oil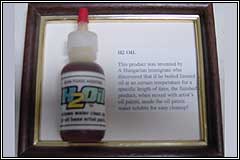 Tube of H2Oil
Invented by a Hungarian immigrant and passed along to his son, this amazing product was the first formulation which allowed artists who used oil paints to be able to clean their brushes with soap and water instead of mineral spirits.  The patent expired and now many oil based paints are using this formulation to allow water wash up. 
---
Note: Since they attended one of our seminars, the Riordan Company helped this husband and wife, whom we'll just call Greg and Kim, to evaluate and bring to market three innovative products over a several year period.  They are one of the most prolific husband and wife inventing teams around and are a true pleasure to work with.  Here are just three of their products:
Bag it strap
This clever product allows shoppers to hook multiple plastic shopping bags onto the Bag-it and then use the Bag-it's shoulder strap to carry the load.  Available as a promotional item for cruise lines, shopping malls and theme parks as well.  Makes an excellent gift for those, "Don't bother me, I'm shopping," kind of gals and guys. 
Tube Pal
Their next invention after the Bag-it, the Tube Pal attaches those pesky spray tubes (which always grow legs) to the sides of aerosol cans so you can always find them, easily use them and then quickly store them. 
The Cell-Grip
The Cell Grip is their third invention and is a remarkably simple and easy to use holder for cell phones which can be permanently or non permanently attached to vehicles, boats, aircraft and, well, almost anything.  Simply twist the cell phone in or twist it out in one quick motion!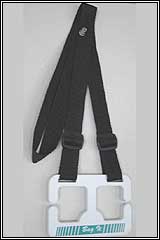 Bag It allows you to carry
plastic shopping bags
with a shoulder strap.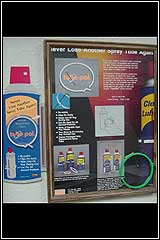 Tube Pals fit both small
and large aerosol cans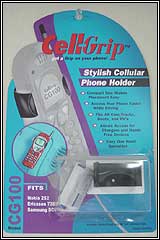 The Cell Grip, a simple yet
ingenious "turn-in turn-out"
holder for cell phones
---
Its-A-Chair Portable/Disposable Lawn Chair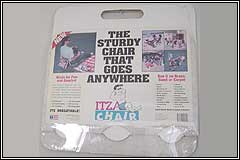 Portable, disposable backrest
and lawn chair
"The Sturdy Chair that goes anywhere" is a lightweight but strong cardboard back support that can be used at picnics & sporting events.  Anywhere you will be sitting without back support is the place for an Its-A-Chair.
---
Box Flap Holder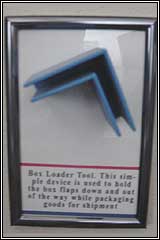 Box holder device holds
box flaps down
Such a great design.  Anyone who has ever tried to work around and pack boxes knows that the flaps can be a real pain to deal with.  This clever flap holder slips over one corner of the box (two are used per box) and holds all four flaps down against the sides of the box for easy access.  A real boon for shipping companies like UPS and moving companies like Mayflower. 
---
Champagne Cork with Safety Tether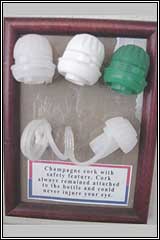 Champagne bottle cork
with safety feature
You are ready for the great wedding celebration.  You reach down to pop the cork from the champagne bottle as everyone in the room gazes intently at you.  The cork flies out and hits you right in the eye.  Dazed, you drop the champagne bottle right into the wedding cake.  Aaaarggghhh. You should have had a cork tether!  This unique design allows the cork to "pop" but keeps it from flying off the bottle.  Product samples have been presented to wineries for testing. 
---
Can't discuss project
.  .  .  but, here is .  .  . 
What our client said:
"Dear Tim,
Thanks for the referral to Overnight Engineering and Jim and Lynn Riordan in San Jose.  Their enthusiasm and expertise is quite valuable to me as a micro-entreprenuer.  They are helping me along with my credo for the 80s: SIMPLIFY *** SUMMARIZE ***AND PRODUCE. 
"This time the emphasis was on SIMPLIFY.  Thanks again for the referral.  I'll report my progress to you in about a month. 
Peter D.  Lantz
President
Spring House Designs International
---
Web Swimming Glove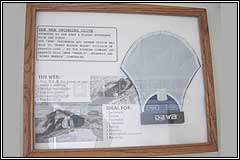 The Web Swimming Glove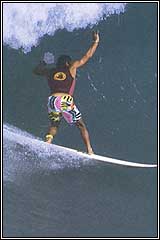 The web swimming glove
in action 1986
The "Web" glove was invented by a male flight attendant for "power swimming" and paddling out on surfboards.  We negotiated a sale of the glove to the Morey Boogie Board division of Kransco Corp.  Kransco is also the parent company to Wham-O, and Powerwheels.  The glove achieved fame in surfing contests where it was used as a steering tool, a type of "hand rudder" if you will, allowing surfers to have much improved control of their board on the face of a wave. 
---
Sir Pegasus Horse Shoe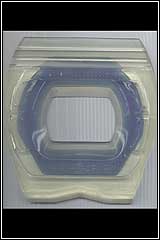 Sir Pegasus therapeutic
horse shoe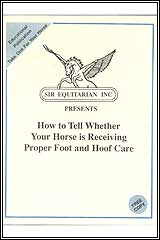 Horse hoofcare booklet
by Jim Riordan
These unique horseshoes were invented by David P.  McKibben, a champion rodeo roper and farrier (horseshoer) with a true love of horses and a sincere interest in their health and welfare.  Sadly, David passed away, but his therapeutic urethane plastic horseshoes live on in his daughter's hands and still help speed recovery of horses suffering from navicular disease and other serious hoof diseases and injuries.  David was not a veterinarian but he knew more about horse's hoofs than most vets did.  The Riordan Company helped David with the product development and plastic injection mold design.  When the design was finished we arranged with an injection molder to build the molds at no up front cost to Dave.  When the shoes were ready for market, we designed and published a booklet entitled, "How to tell whether your horse is receiving proper foot care" as a point-of-purchase sales tool for the shoes. 
We arranged the introduction of the product to D.  Wayne Lucas, one of the most famous horse race trainers of all time, who immediately saw the potential benefits of the shoes. 
We worked with Ralston Purina Corporation, one of the world's largest suppliers of animal feed and care products.  A 1/4 of 1% royalty on worldwide sales was negotiated which was expected to net the inventor $4,000,000 in the first year alone. 
The Sir Pegasus shoes have been used and tested in marathon cross country horse races that are especially hard on horses and horseshoes.  Farriers, vets and horse owners all around the world have used this shoe and swear by it. 
The patented shoe consists of an "outer" hard clear urethane plastic and an "inner" soft urethane (the blue part of the accompanying photo) which is easy on the hoof and promotes faster healing. 
What our client said:
"Thanks Jim for caring enough about my project to really understand how important it is for horses.  That means everything to me."  
David McKibben
President
Sir Equitarian, Inc. 
---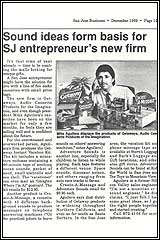 Mike Aguilera with the
Getaways instant vacation
kit and the
Create-a-Message
answering machine tape
Note: Mike Aguilera is one of those refreshing inventors with a great sense of humor.  After attending one of our seminars, Mike tackled his first product, the "Getaway Instant Vacation Kit."   He followed his first product with a second hilarious product, the "Create-a-Message" answering machine tape.  We helped Mike with every step of taking his products from concept to profit. 
Getaway Instant Vacation Kit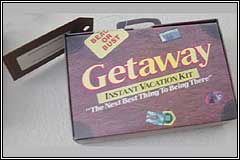 Getaway Instant Vacation Kit
Billed as, "the next best thing to being there," this is the perfect gift for those folks who are just too busy to get away.  The kits had various themes from a beach vacation to a mountain getaway.  Each kit contained a themed audio tape and a miniature "diorama".  For example, the beach getaway kit had a fold up "beach scape" with a miniature beach umbrella, a packet of sand to sprinkle on the "beach" and an audio tape of waves crashing on the beach.  The idea was to listen to the audio tape and stare at the diorama until you "hypnotized" yourself into thinking you were on that beach.  Ahhhh the relaxation .  .  . 
Create a message Answering machine tape recordings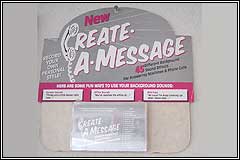 Create a Message tape
for answering machines
This is one of the funniest products I have seen (or heard).  It still makes me laugh every time I think about it.  Mike thought up a bunch of really funny scenarios and then recorded a whole repertoire of them in a professional sound studio onto a master cassette tape.  He then duplicated the tapes, packaged them and sold them in gift stores.  The end user would place the tape in a portable recorder like a Sony Walkman™ and then play it as a background while they recorded their message onto their home answering machine.  As an example, one message has in the background really loud pounding on the door type sounds with a voice in the background shouting, "This is the police, open up and come out with your hands up!," while the recording voice is saying, " .  .  .  Uh, I can't come to the phone right now, someone is at my door .  .  but .  uh .  .  (pound, pound pound) .  .  .  leave a message and I'll get right back to you.  Gotta go now."   (pound, pound, pound, "open up ."    ) Mike also had serious ones with office machines and computer sounds for people who wanted to sound like they had a big office but didn't.  Very, very funny. 
---
Catcher's Hat™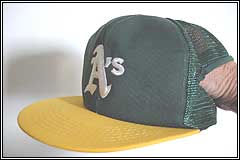 The Catchers Hat
This is a classic.  The inventor was at a major league baseball game and he had a home run ball come right to him.  He reached up to snag it and the ball hit his hand so hard that he dropped it and someone else caught it.  He went home thinking, "darn, if I only had a mitt that was not a hassle to carry and was easy to get to."   He conceived the "catchers hat" which was a standard baseball cap with a padded "glove" stitched inside it.  We located a supplier in Taiwan, had samples made and helped the inventor negotiate with the Oakland "As" to do test marketing and eventually to distribute the hats through vendors in Major League Baseball stadiums.  Just as the product was ready for market, a new patent issued by someone who had filed for it two years earlier than our client.  My client was heartbroken.  Instead of giving up, we located the inventor, negotiated an exclusive marketing agreement and nailed down a licensing agreement in which my client would pay twenty-five cents per hat to the patent holder.  Win, win, win!  
---
Fotoventory™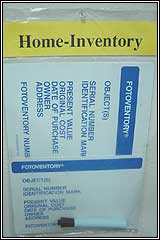 Fotoventory for taking
home inventory
Home inventory made easy with this miniature white board that has item name, description, purchase price, present value and notes headings printed on it so you simply fill in the blanks with your erasable pen, take a photo and move on to the next item. 
---
Quikstik pads™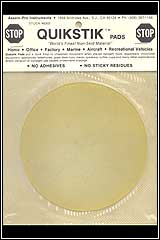 Quikstik pads can be used
underneath soldering
stations or other tools
to prevent slippage
These urethane based pads are used under any soldering iron stand, solder spool holder or other device that you want to remain stationary on your workbench. 
---
The Pin and Spin
This creative sewing product was conceived and developed by a seamstress to allow her to easily pin a hem on a customer's dress without getting up and down.  We helped Jane perfect the product design. 
What our client said:
"Dear Tim, I did meet with Jim Riordan and he came up with a design that is just perfect.  Many thanks for putting me in touch with Jim.  In no time at all, he solved the problems that had held me up for over a year!  No need to tell you how pleased I was!  The materials he used were so simple and inexpensive yet they did the job perfectly.  I'm so pleased to have found The Alliance and Jim Riordan."  
Jane Levinsohn
Pin-N-Spin
---
Leg Lock™ safety device for firefighters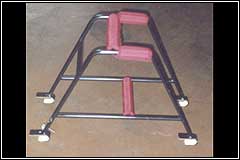 Leg Lock safety device allows
firefighters to firmly attach
themselves to a ladder when
doing roof cut-ins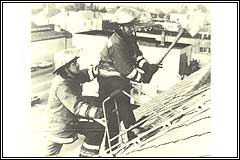 Leg Lock Safety Device In Use
Invented by Jon Riley, a firefighter, who saw a need for a lifesaving device that allows firefighters to firmly attach themselves to ladders while using chainsaws and other heavy implements for roof "ventilation" operations.  The Leg Lock Safety Device helps save firefighters from falling through the roof into a burning building below.  We helped Jon with the Leg Lock from concept to market. 
---
SmartMark™ Book mark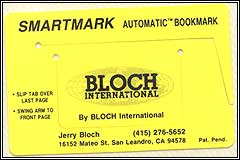 SmartMark book mark by Jerry Bloch.
Flips from page to page automatically
Jerry Bloch had a quest to help Americans become literate.  When he thought of the Smartmark, he immediately saw a way to help.  He decided to market his product through book stores and then donate a portion of the sale price to literacy programs throughout the U.S.  We helped Jerry refine the prototype, get the dies made, prepare a marketing plan and develop the displays. 
---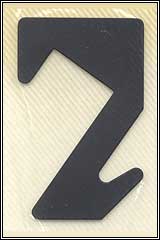 Portable clothes hook
keeps clothes and bags
off the floor in restrooms
Portable clothes hook
Clever credit card sized hook fits in your wallet and is much appreciated in those restrooms where the stalls have no hooks and your only choice is to drape your suitcoat over the door risking a plunge to the floor below that is handily covered with .  .  .  well, let's not go there but I'm sure you see the value of the product.  We worked with the inventor to perfect the design and prepare it for market as an advertising specialty.  Very simple, very inexpensive, very much appreciated when you really need it!  
---
Note: Tony Jenkinson came to the Riordan Company after hearing Jim Riordan speak on KGO radio in San Francisco.  Tony and his wife Beth, both extremely creative individuals, had two unique ideas both of which we helped guide to market.
The Spife™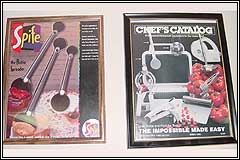 Spife (combination spoon & knife )
sell-sheet and Spife
on cover of Chef's Catalog
Scoops like a spoon, spreads like a knife, it's the Spife.  Once you have scooped and spread peanut butter, jelly, mayo or soft butter with a Spife, it will become one of the fundamental items in your silverware drawer.  Invented by Tony Jenkinson, a print shop owner, Spife makes sandwich preparation a snap.  You can scoop and spread large amounts in one pass.  The first prototype of the Spife was a flattened spoon which Tony had hammered out and tested.  We helped him line up suppliers, choose material, purchase the stamping dies and then package the product.  We then helped him with his PR and marketing strategies.  The accompanying photo shows the Spife in its package and featured on the cover of the Chefs catalog.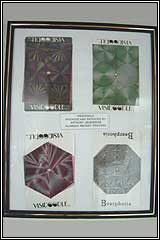 Tony Jenkinson's
Visidoodle
The Visidoodle™
Invented by Tony Jenkinson, the Visidoodle consists of two rectangular sheets, one made of opaque white card stock, the other made of clear Mylar®, both sheets having the same design and images printed on them.  The two sheets are then riveted together at exact center.  As the upper Mylar part is rotated, it creates a "Moire" effect which is a constantly changing almost kaleidoscopic appearing effect.  Very popular with kids, these clever Visidoodles are sold in prestigious museum gift shops both nationally and internationally, such as the Exploratorium in San Francisco.  Please note that in the accompanying photo, the bottom left Visidoodle is turned slightly and the "Moire" effect is beginning to become evident, while the top right Visidoodle is still aligned with no Moire effect visible.
---
Gum Pals™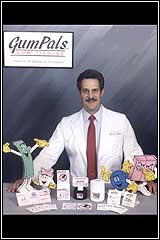 Jim Balenesi With Gum
Pals Product Line
Jim Balenesi, "Dr. Gum," loves gum . . . . but only when it is in his mouth, not on the bottom of his shoes.  In a restaurant, Jim noticed how difficult it was for a carpet cleaner to remove a stubborn piece of gum from a carpet.  After some research, Jim found out that removing gum from carpet in airports, government buildings, museums, rent a cars, etc. was a major maintenance cost.  Removing gum from beneath tables and from public transportation such as busses and airliners was also very costly.  With Jim's Gum Pals disposal tissues, gum does not stick to anything except the tissue.  Jim's studies showed that public places that dispensed free gum tissues suffered far less costs in gum removal.  Jim is shown here with his whole line of tissues and dispensers.
What our client said:
"I began reading and doing the exercises on Saturday night (the 9th).  I'm so impressed (as well as depressed from time to time) as I work through it.  I told you after your presentation before the ITM group, here in Santa Rosa, how impressed I was with the knowledge (information) and experiences you shared.  Your book goes beyond that to the point that it is almost "incredible" the insight you have gained over the years about the inventive process."
Jim Balanesi
Dr. Gum
---
Lotto Locker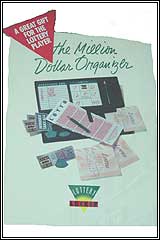 Lotto Locker
By George Coakley
George Coakley, the marketing genius behind the Pet Rock, and Riordanco helped this inventor get his "million dollar organizer" to market.  This product gave the serious lotto player the perfect place to store all lotto related items in one handy location.  The product was positioned to be an impulse item at point of purchase wherever lotto tickets were sold.
---
The Shave Easy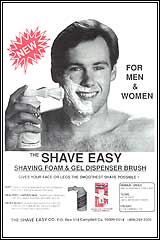 Shave Easy
catalog sheet
Ed Souza, an electrician by trade, invented this useful device.  Shave Easy is a plastic injection molded housing and brush assembly which snaps onto a standard can of shaving cream or shaving gel.  The soft bristle is kind to sensitive skin.  And, because there is no shaving cream wasted on your hands, it saves money too! Riordanco helped direct Ed from concept to market.  Ed really loved his occupation but wanted a side business he could handle.  We helped him find an injection molder, brush bristle manufacturer and packaging company so that he simply packaged them and shipped them.  We arranged for the first test marketing in local drug and sundry stores.
---
Smogmate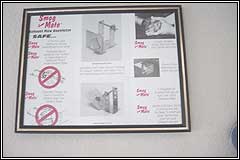 Smog Mate Device
Used In Smog Check Testing
A certified smog technician invented this device to enable him to more easily and thoroughly perform the new smog checks required by California law.
---
The Sportback™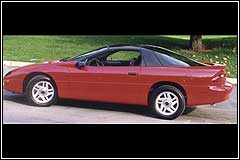 Hatchback car stock from factory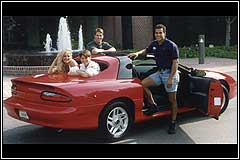 Hatchback after replacement
with new Sport Back
Replacing the rear hatchback of your car with a Sportback gives you a window which can be raised or lowered and provides a more sporty "Corvette-like" look. Riordanco developed the name and marketing strategy for this unique automotive accessory.
---
The Desk Flyer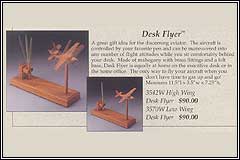 Desk Flyer Pen Holder
The desk flyer, a creative executive pen or pencil holder, was invented by a pilot from San Diego, CA.  The pen or pencil doubles as a control "stick" to make the plane pitch up and down and roll right or left.  Riordanco helped him get the product placed in the Sporty's Pilot Shop catalog.
---
Thank you for visiting our website. Please be sure to visit our other sections for more products, projects, success stories and testimonials.






For a list of our fees for our services please see our Fees for Services page