Inventor Assistance
Your Ideas May be Worth Money | Idea and Invention Marketing
Business Startup and Management Consulting



FREE Initial Idea Evaluation

A personal message from the Riordan Company's CEO, Jim Riordan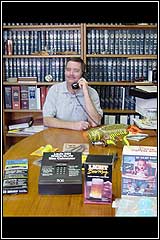 Jim reviewing products
Are your ideas worth money?  I'll bet at least some of them are!  My ideas have definitely been worth money.  Have you ever made $65,000.00 for a few hours work?  I have, and I'm not trying to brag.  I'm trying to make the point that if I am able to sell good ideas then you can too.   
I want you to do the same or better than I have! I am extremely grateful to have been able to participate in so many exciting projects and to reap the benefits since 1979. I never know where my next idea will come from. I get them in the shower. I get them while I am dreaming. Sometimes they just pop into my head as I'm driving down the road. I believe these are true gifts from above. I have no other logical explanation. I have a strong belief that if we are given these ideas as gifts, then to waste them by not pursuing them is doing both yourself and the one who "gave" you the idea an injustice.    
About the only gambling I do, other than gambling the engine won't quit when the wheels leave the ground in my aerobatic plane, is on my own ideas and I have "won" over and over with them.  If you have good ideas, you can gamble on yourself and "win" as well.  I hope you will take the time to look around this site and see some of the products and projects we have worked on over the years.  You may even see something and go, "hey, I thought of that five years ago."   Well, the dollars were made by the person who followed through and made that idea a reality.   
Inventing for a living is a pretty neat dream career.  I have a really short commute.  Upstairs to downstairs.  The only time I hit traffic is when Snoopy, our corporate chief of security .  .er , .  .ok, ok, our dog, playfully refuses to let me go down the stairs.  The meanest person I will have to deal with all day is right there in my mirror.   
Isn't it an almost universal dream to be able to work when you want, where you want, doing what you want?  Don't we all dream of no commute?  Doesn't everyone want the best things in life for their family?  A good education for their kids?  Don't you want the time and financial freedom to enjoy the good life?  If you have good ideas you may be able to live that dream.  We have been enjoying it for 25 years.  What makes us different is that we KNOW first hand HOW to do it.  We ARE successful, we HAVE a proven track record, we HAVE satisfied clients and we HAVE extensive references.  We are REAL!    
Everyone has good ideas in their lifetime.  Some folks have been chosen to receive lots of good ideas.  The difference between living your dreams and struggling just to get by may very well be narrowed down to one factor: Following through.  If you never follow through on your ideas, you may never live your dream.  If however, you do follow through on your ideas you may be able to experience the financial rewards, freedom and security that your ideas can bring.  To put this in perspective, I know lots of great people who have made enough money to pay for a new house in full with one single idea.  They all have one thing in common, they followed through. 
There are lots of different and creative ways to sell your ideas.  If you are happy with your job, you can still sell your ideas and inventions on the side to make college tuition dollars for your kids, vacation dollars or "hobby" dollars to buy the toys you want.   
I have:
| | |
| --- | --- |
| • | Traded my ideas for products and services |
| • | Sold ideas without any protection whatsoever |
| • | Sold Trademarked names I conceived |
| • | Sold ideas in the patent pending stage and let the buyer(s) pay the patent fees |
| • | Sold my patents |
| • | Sold products I conceived, designed and manufactured to companies on an exclusive basis.  |
| • | Sold my own products and my clients' products through mom and pop gift stores, catalog houses such as Joan Cook, Spencer Gift, Chefs Catalog, Right Start, Smarter Image, Sporty's Pilot Shop and major national department store and retail chain stores including Home Depot, Macys, Bloomingdale's, Penny's, Toys-R-Us, and Longs Drugs just to name a few.  |
| • | Sold my jokes.  In fact, I sold one to Rodney Dangerfield who used it on an album! |
Inventing for a living has been exciting and both financially and intellectually rewarding for me. 
Now, I am enjoying watching my clients learn to invent for a living and that is proving to be the most personally rewarding part of my career;
helping others get to experience the personal and financial rewards of pursuing their ideas.   
So, how do you get started?  Before you go to a patent attorney and spend money, the
only
logical first step is to determine whether or not your idea is a good one and whether it is even worth patenting.  Remember, a patent does not guarantee that your product will end up in the stores.  The one who gets a good product on store shelves reaps the benefits.  Above all, do not go to one of those flaky invention marketing companies.  They will never tell you the truth.  You need to know the truth.  Is this a good idea that will make you money or a bad idea that will cost you money and WHY??  
How can you find out?  We offer you a couple of choices. 
| | |
| --- | --- |
| 1.  | We will evaluate your product for you, in as much depth as you want, either in person or on the phone, in confidence and with non-disclosure agreements (NDAs) signed.  |
| 2.  | If you are one of those many people who do not want to reveal your idea, you can evaluate your own product yourself, without revealing your idea to anyone, using our 36 point evaluation systems. Your first step should be to take our FREE Initial Idea Evaluation which will give you a very rough idea of whether you have a potential winner. If you come out with a score of 60% or better, you should then do a thorough and complete evaluation using our CD How to Evaluate the Potential For Success of a New Product or Technology which you can then use for every idea you have from now on. |
If your product comes through the evaluation a winner, Riordanco will help you realize your dreams. We will help you find manufacturers, suppliers, reps, distributors, dealers and customers! Our clients choose the Riordan Company because:
| | |
| --- | --- |
| • | Our rates are reasonable |
| • | We will always keep your information confidential |
| • | We will always sign your non-disclosure agreements or provide you with one |
| • | You must always be satisfied with our consultation. |
| • | We have references.  |
If your idea has already been evaluated, or your product is already in development, you are ready to get started on your own path to profit. Your next step is to call us and we will literally walk you through each and every step of taking your product from your initial concept to collecting and protecting your profits. You will learn, at your own pace, every step of the inventing-for-a-living process in logical, detailed steps. The skills you learn will be with you for the rest of your life. No one can take them away!
One thing is for sure.  Your dreams will never become reality unless you follow through.  A wise person once said, "There are those who make it happen, those who watch it happen and those who wonder what happened."   Be one of those who make it happen!  Please, do it for yourself and the one who "gave" you the idea.  Follow through!  
I hope you get the feeling that I am speaking to you from the heart.  I am.  The next steps are up to you. 
Best Regards,
Jim Riordan
Get help and answers fast with our guaranteed consulting services. We will work with you over the phone or in person.
Do you have an idea and wonder if it is worth money?

Are you wondering what your next step should be?

Are you wondering which company you can trust to approach with your invention?

Are you wondering whether to license it for royalties or make it and sell it yourself?
We have been in the business since 1979 and we have the answers. We guarantee it. You must agree that we have given you the most valuable information within the shortest time of anyone else you have spoken with or your money back! Period!
---
Request Consultation
You can request a consultation with our company for $150/hour.
Please select the amount of consultation time you would like below.


For your protection, we will sign a Non-Disclosure and Non-Compete Agreement for you before we speak with you regarding your idea or product. Please click on the PDF link below and print out the form, fill it out and fax it to us for our signature. We will fax it back to you promptly.



---
For more information on our inventor services, and to learn what our clients have said about them, please click on one of the buttons below. 







For a list of our fees for our services please see our Fees for Services page