Product Design
We offer the following design services:
 
•  Product Design from Scratch
 
•  Design Reviews, Pre-Release and Post-Release
 
•  Prototype Development and Fabrication
 
Please note that all of our services are provided with the highest confidentiality standards.  Our reputation is impeccable.  We guarantee your satisfaction. 
| | |
| --- | --- |
| Product Designs from Scratch | Prototype chess set CNC machined |
| • | We will come up with alternative designs or creative new designs for you from scratch.  |
| • | We will help you take an idea and turn it into a set of production drawings.  |
| • | We now offer 3-D drawing capabilities, using Solid Works™ Modeling program, to produce .SAT, .SLT, .IGS & .DWG drawing files and can take your idea from drawing board, to finished SLA, SLS, and other forms of finished prototypes within days, instead of weeks and months.  |
| • | We also offer printed circuit board design, and printed circuit prototyping, from right here in the good old U.S.A., and production runs from our off-shore contacts. |
| • | We will help you choose the best materials and manufacturing methods.  |
| • | We will help you incorporate ergonomics and aesthetics into your designs.  |
| • | If you have an existing product line, we will provide you with new concepts for follow-through products.  We call this service "Inventing-to-Order."   |
| • | All designs completed for or with our clients become their property with no further compensation to us.  |
Design Reviews
•
We offer comprehensive product design reviews and second opinions on product design at any stage of development. 
•
Do you need a second opinion on a product design before investing in production tooling?  We can help. 
•
We provide creative cost reduction solutions and value added product improvements after products are already on the market. 
•
We provide fast re-designs and retrofit able fixes for "problem" products which you need to quickly repair, improve or update. 
•
We supply fast solutions and quick fixes for those electrical, mechanical and marketing "OOPSes" that catch you by surprise, because, well .  .  .  we know "stuff" happens!  And, we know how to fix "stuff."   We have been providing "Overnight Engineering" Solutions for our clients for over twenty-five years. 
•
We provide opinions on product liability from a product design standpoint. 
Prototype development and fabrication
•
For twenty-five years, our motto has been, "If we can't make it, you don't need it."   Regardless of how simple or complex your prototype is, we will design it and/or build it from scratch. 
•
We will do limited production runs of CNC mill or lathe parts, welded assemblies, pneumatic and/or electro/mechanical components, subassemblies and complete finished products in packages. 
•
If your product will best be manufactured offshore, we will arrange to have prototypes made by offshore manufacturers who want your business and are prepared to earn it. 
Here is what a patent attorney from a leading San Francisco Law Firm said about our services:
"I have represented James F.  Riordan for over 12 years in intellectual property matters.  During this time, I have worked with him in protecting his numerous inventions in the mechanical and electro-mechanical arts.  I have found him to be a person dedicated to the solution of complex design problems.  I have also been impressed with his successes in assisting third parties in reducing their inventions to practice and in commercializing their inventions.  Mr.  Riordan is hard working, is intellectually honest and has a mastery of his skills sufficient to qualify him as an expert witness in patent infringement and products liability lawsuits.  I strongly recommend him for tasks which require mature judgment in the solution of problems of the type described above."  
John L.  McGannon
Law Offices Townsend and Townsend
Here are just a few comments from our clients:
Folding Patio Boat/Houseboat
Jim Brignolio's patio boat unfolding on
new trailer

Jim Brignolios patio boat # 2 folded out
12 foot wide. Seats fold down
and make into beds for camping

Jim Brignolios patio boat
#2 folded up for trailering
Certainly one of the best ideas we've seen in "patio boating," Jim Brignolio's design folds up for easy trailering and then rapidly and easily folds out on the trailer and slips into the water.  When Jim first contacted us, the patio boat had to be unfolded in the water.  We conceived a trailer for Jim that allowed his unique patio boat to be unfolded on the trailer, before being put into the water.  Now, patio boat owners can enjoy all of the extra deck space of a full size patio boat, with the ease and convenience of towing and launching a much smaller boat.  The couches all fold down into beds for camping, and both fully enclosed models and sunroof only models are available.  The pictures above are of the second proof of concept model and the finished product will soon be offered to patio boat manufacturers for licensing.  By 2003, three patents have been issued on the folding patio boat.   
What our client said:
"Your trailer design provided the solution to the last big challenge we had and made our folding patio boat so easy to launch that now anyone can do it."  
Jim Brignolio
JCB Inc.   
---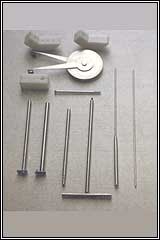 Percutaneous hip pinning
set invented by Dr.  Steve
Imrie.  We built the
prototypes
Percutaneous Hip Pinning Kit:
Dr.  Stephen Imrie, a leading surgeon in hip replacements, invented this tool set to enable him to perform less invasive hip surgeries.  At the time, hip surgery required the patient to be "opened up" in such a manner that the patient suffered a great deal of post operative pain and had a long recovery period.  We worked with Dr.  Imrie to improve his design and build a tool set which could be used in test operations.  We produced two identical sets of the tools.  Dr.  Imrie first used the tools in an operation on a cadaver to prove out the concept and then, after receiving the green light, began using the tool set in operations on live patients, reducing their trauma and speeding their recovery by 75%.   
What our client said:
"I just used the new tools on our first live patient and they worked exactly as advertised.  Know that your contributions were significant.  I would recommend your services to anyone needing help with their prototype development". 
Dr.  Stephen Imrie
Surgeon        
---
Mobile carport system
We evaluated this project for the Capital Institute investors group and found inherent problems in the design.   
What our client said:
"Thank you for your advice on this proposal.  We agree with you and have decided not to pursue it.  As always, your information was right on target.  Your services have become a real asset to The Capital Institute.  Your company has already helped us to avoid several investments which appeared, on the surface, to be worthwhile, but, after your analysis, were shown to be inappropriate for our investors.  On the other hand, your suggestions for product improvements and marketing strategies have helped to expand the horizons of our present projects.  We consider Cameron Technologies to be a most valuable source of information, and we plan to increase the use of your services as an integral part of our investment review department."  
Bruce J.  Blechman
President
The Capital Institute  
---
Cardiac device
Esther Roberts came to us with a sophisticated cardiac care device.  We reviewed the design and we were able to significantly reduce the number of moving parts thus reducing the cost of goods sold and reducing maintenance while at the same time improving reliability and product life expectancy.   
What our client said:
"I am writing this to let you know how instrumental you have been in the refining and conceptual development of my cardiac device.  Your ability to grasp the principles governing the functioning of my device and to assist me in an innovative approach to troubleshooting such a complex, specialized medical design is quite remarkable.  I value your expertise in patent law.  Additionally, I have found your ability to think creatively about alternative ways to approach development of my design to be absolutely invaluable!  I have a lot of confidence in your professional judgment.  Thanks again for your help!  I will be certain to refer other clients to you as the opportunity arises."  
Esther Roberts, R.N.  , B.S.N.   
---
Sewing Device
Jane Levinsohn developed a new product for seamstresses but was having problems perfecting her prototype.  We were able to provide the solutions to her challenges.   
What our client said in a letter to the person who recommended us:
"I did meet with Jim Riordan and he came up with a design that is just perfect! Many thanks for putting me in touch with Jim. In no time at all, he solved the problems that had held me up for over a year! No need to tell you how pleased I was! The materials he used were so simple and inexpensive, yet they did the job perfectly. I'm so pleased to have found the Alliance for American Innovation and Jim Riordan."
Jane Levinsohn  
---
Game Control Design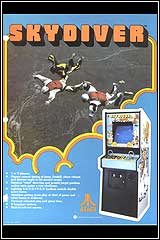 Atari Skydiver Game
While at Atari Jim Riordan designed, redesigned or helped design many different action devices and control systems for Atari's coin operated games.  Jim designed the first prototype of the "ripcord" handle/joystick control used to play Atari's Skydiver game.  At the time, Jim was active in skydiving at Pope Valley Parachute Ranch and also provided the skydiving photos used on the catalog sheets and wall posters for the game.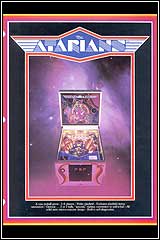 Atari's first Pinball Game
Jim was responsible for the design of several action devices on Atari Pinball games as well, from the first "Atarians" game through "Superman."
What Atari had to say:
"Jim has a broad knowledge of many diverse skills and an extremely inventive turn of mind that has produced many ideas, some of which have already been incorporated into our standard pinball games."
Geoffrey Harrop
Engineering Manager Pinball Division
Atari, Inc  
Just when you think you have heard enough about how good we are at helping you with product design . . . we invite you to please visit other sections on our site that feature unique products we designed or helped to design.  You will see examples of products that range from simple stampings to complex robotic characters and full motion NASCAR race car simulators.  Please see "Idea and Invention Marketing" in our Inventor Assistance section.  Also, "Our Projects and Success Stories" found in the "About Us" section, and "inventions patents and trademarks" page of the Bio of James F. Riordan found in the "About Us" section.

Please bear in mind that the products and projects you see on our site represent only a few of the products and projects we have completed.  Many of our projects are confidential and cannot be revealed or discussed.

We hope you will consider the Riordan Company for your next project!  We will earn your business the old fashioned way, with caring, competence and a satisfaction guarantee!
For a list of our fees for our services please see our Fees for Services page