About Us / BIO OF JAMES F.  RIORDAN
---
resume | community involvement | accomplishments | author
inventions, trademarks & patents | hobbies
---
SPEAKING ENGAGEMENTS:
| | |
| --- | --- |
| • | Keynote and featured speaker at JFK University innovation seminar where he spoke on evaluating new products and technologies.  |
| • | Keynote speaker at Santa Rosa Junior College National Innovation Seminar and Workshops where he spoke on "Inventrepreneurship."   |
| • | Featured speaker at the Small Business Administration's "Small Business Focus" in Santa Clara where he spoke on growing a small business through innovation.  |
| • | Keynote speaker at Sino-U.S.  Management conference in Taipei Taiwan where he spoke on product packaging, technical writing for the American consumer and how to approach American companies for marketing opportunities.  |
| • | Keynote speaker at 1991 International Management Council's Annual Retreat Program where he spoke on Mutual Gain Leadership.  |
| • | Member of 36 person team sent to Washington DC by the National Chamber of Commerce on a "Safari" to represent small business' response to proposed national health care plan.  |
What others say:
"Dear Jim,
I certainly enjoyed meeting you and I appreciate you taking the time from your busy schedule to come to Washington for our safari."
Richard C. Chalkley
Nation's Business
National Chamber of Commerce
"Your keynote address and workshop series contributed immeasurably to the success of the event."  
Jeanie Stromgren
Coordinator
Santa Rosa Junior College Foundation  
"Thank you for making such an excellent presentation at the Santa Rosa Jr. College inventors' program. I feel that we surpassed the quality of the past programs, as well as most of the National Innovation Workshops. I have received numerous calls stating the callers' appreciation of such an excellent group of expert speakers. It was certainly pleasant and relaxing being able to visit with you and Lynn at the dinner party that we enjoyed together. Dorothy and I have spoken of it many times since that enjoyable weekend."
Norman C. Parrish
President
National Congress of Inventor Organizations  
---
SEMINARS
James F.  Riordan produced and delivered innovation, marketing and management seminars for entrepreneurs and corporations.   
What others say:
"On behalf of the Santa Rosa Junior College Foundation and the seminar committee, I would like to thank you for your participation in our Inventive Process Seminar. Your keynote address and workshop series contributed immeasurably to the success of the event. Persons attending your sessions were especially enthusiastic in their praise. They commented not only on the wealth of information gained from you, but how your personal warmth and s incerity were so apparent. We were indeed fortunate to have had your expertise."
Santa Rosa Junior College Foundation
Jeanie Stromgren
Coordinator  
"I wanted to drop you a note to thank you for the informative seminar on product marketing which was held on August 18,1990, at the Flying Lady in Morgan Hill, CA.  After attending your seminar and actively reviewing the materials you distributed, I feel I can proceed with my project.  I now know what steps are necessary to bring my product to the general public."  
George R.  Cox
President
Cox & Sprague Machinists  
"I just wanted to thank you for the great program you delivered at the subject seminar on Saturday.  You can teach an old dog new tricks and I sure learned my share during your seminar.  What I especially liked was that you presented the information from a base of real "practical experience".  So many of today's seminars are not very effective because they're conducted by book learned experts and are devoid of that all important experience factor.   
"I hope you don't mind if I quote you on the following:
| | |
| --- | --- |
| • | Values determine priorities.  |
| • | Priorities govern choices.  |
| • | Choices dictate decisions.  |
| • | Decisions generate acts, attitudes and habits.  |
| • | When taken in concert these factors determine the consequences of one's life.  |
"As for my product, I plan to utilize a lot of your advice and intend to try and license it to a large manufacturing distributor, like Hallmark Cards.  Jim, I hope you don't mind my staying in contact with you.  Again I enjoyed your seminar and plan to recommend you to a lot of my friends and contacts."  
Bob Dendall
Dendall and Associates  
"Our idea is a consumer product computer type," said Mindy Atwal, who attended the seminar with her husband, Gene Wilson. Atwal works in sales, while Wilson makes a living as an engineer. The couple lives in Campbell. "We aren't shooting for stars, we just want to see what happens," she said. According to Wilson, he and his wife have plenty of ideas. "We just didn't have any idea about how to do this. I feel now I at least have an understanding of this and know some ways to protect ourselves," said Wilson.
Mindy Atwal
Gene Wilson
(from article by Wendy Stits of the Morgan Hill Times)  
"I feel good about it.  Now I'm set to start developing ideas of my own". 
Alexander Solomko  
"I'm satisfied with the seminar.  We got an overview about the whole process"
Moon Choi  
"It was wonderful, now I have a foundation."  
David Paulk  
---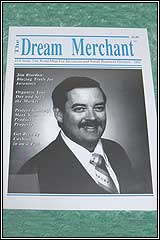 Author Jim Riordan on
the cover of Dream
Merchant Magazine 1994
TALK SHOW AND TV APPEARANCES
Frequent guest on radio and television talk shows.  Regular on KGO radio, one of the largest listening audiences in the United States.  KGO radio refers to him as their "product marketing expert" and "the Inventor's friend".  Hosted talk show on El Dorado County station KHTN.  Appearances on Evening Magazine and PM Magazine nationwide, ABC, NBC and CBS news.   
---
NEWSPAPER AND MAGAZINE ARTICLES FEATURING JIM AND PRODUCTS
Wall Street Journal, San Jose Mercury and News, Industrial Electronic News, Popular Science, Grit, The Star, Sacramento News and Review, The Business Journal, Inc. Magazine, Nation's Business, Kid's Magazine, Western Flyer, Pacific Flyer, Dream Merchant Magazine, The Oakland Tribune, The LA Times.            
---
resume | community involvement | accomplishments | author | inventions, trademarks & patents | hobbies
---