About Us / BIO OF JAMES F.  RIORDAN
---
resume | community involvement | accomplishments | author
inventions, trademarks & patents | hobbies
---
BOARD MEMBERSHIPS:
California State University at Hayward, advisory board member for the Center for New Venture Alliance. 
"Dear James:
Thank you for accepting my invitation to serve as a member of the advisory board for the Center for New Venture Alliance. I look forward to working with you in this important endeavor."
Jay L. Tontz
Dean
California State University, Hayward
| | |
| --- | --- |
| • | Pacific Investment Finance and Banking Corp, Director, 1990-1991 |
| • | Two term board member of Northern California Antique Airplane Association.1987-1989 |
| • | Honorary Chairman, National Business Advisory Council, 2001-2002 |
| • | Co-Chairman of The Watsonville West Coast Fly-In 1986.  This event is the largest fund raiser for charitable organizations in Santa Cruz County.  It is also the largest antique airplane meet west of the Mississippi and the second largest in the Nation.  |
| • | Chairman of The Watsonville West Coast Fly-In 1987 and 1988.  Involved coordinating and directing twenty-two committees with over four hundred volunteers.  |
| • | Media Coordinator for EAA Golden West fly-in 2004 |
| • | Placerville Airport Advisory Committee member 2000-2007 |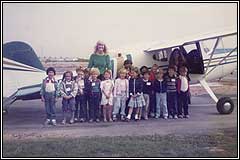 Jim Riordan flys first Freeflight
group of kids 1982
CO-FOUNDER OF "FREEFLIGHT"
Along with co-founder Bret Willat, formed an organization of pilots to give school children and disadvantaged children their first ride in a small airplane, at no charge, in order to help them understand and appreciate the role of aviation within a community, and career opportunities in aviation.   
LITTLE LEAGUE
Coached and sponsored local little league teams.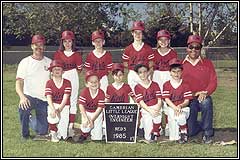 Little league coaching, Jim is far left,
son Brett is 4th from left, bottom row
"Dear Jim:
Thank you very much for both constructing the new bleachers and repairing the others.  They look terrific and add greatly to our fields.   
"Again, thanks from me personally and on behalf of Cambrian Park Little League."  
Gary T.  Shara
President
Cambrian Park Little League  
---
AWARDS, COMMENDATIONS AND KUDOS FOR COMMUNITY SERVICE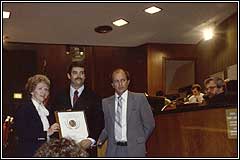 Jim receiving Good Citizen Award from
San Jose Mayor Janet Gray Hayes 1982
| | |
| --- | --- |
| • | San Jose Mayor Janet Gray Hayes and Police Chief Joseph MacNamara awarded Jim Riordan the "Ross Donald good citizen award" in 1982 for "substantially assisting the San Jose Police Department in the arrest of an escaped felon wanted for burglaries throughout the city. Mr. Riordan chased, captured and held the suspect until the police arrived." |
| | |
| --- | --- |
| • | Commendation from San Jose police dept. "for assisting police officers in apprehending a car thief". Riordan stood in front of the stolen car as it approached him. "When the thief refused to stop, Mr. Riordan threw a fourteen inch crescent wrench through the windshield. The wrench bounced off the raised portion of the dashboard housing the speedometer, hit the thief in the forehead and knocked him unconscious. The car rolled to a stop on a neighbor's lawn where the thief was promptly arrested by a police officer on his way to work. The thief was then taken to San Jose hospital for treatment of his injuries". |
•
Certificate of Appreciation from California State University at Sacramento for providing aerobatic airplane rides for Sacramento State students from 1990 to 1994.  Plaque reads: "On behalf of the Recreation and Leisure Studies faculty and students for providing an exhilarating introduction to the wonderful world of aerobatic flight during each semester period of 1990 to 1994.  The students enjoyed your class presentations which introduced them to flight aerobatics and encouraged them to take to the air.  Your rapport with our students is also to be noted.  They were impressed with your professional demeanor, knowledge, skill, and your concern for their safety as you took them through their personal flight experience."  
Steve W.  Gray, PHD
Department Chair
California State University, Sacramento
•
"On behalf of my Recreation and Leisure Studies students, I would like to extend my personal gratitude to you for providing them with an exhilarating introduction to the wonderful world of aerobatic flight! The time you took from your busy schedule to offer this enriching experience to my students is sincerely appreciated. From all reports, they truly had a peak leisure experience in each and every case even though some, by their own admission, were not as eager as others to experience the full repertoire of aerobatic maneuvers. I was surprised to learn that for several of the students this was their first experience in an aircraft of any type. Several students stated that a whole new world had been opened to them and they intend to begin flight training as soon as they can! Others indicated that they will come back this summer with friends, if you will be available. All enjoyed and appreciated your professional demeanor and your concern for their welfare and safety. One of the factors that greatly contributed to the success of the program was the price of the experience. Not all students have discretionary income during the semester and your minimal charge was seen as an extraordinary opportunity. As one student put it, "For what I received, this was better than any E-ticket (Disneyland) ride I've ever purchased!" Again, let me thank you for helping me to enrich my course of instruction by providing the opportunity through which my students could truly experience, firsthand, the thrill, excitement and fulfillment of a peak leisure experience. I hope this was a rewarding experience for you as well and that you will be willing to continue providing this wonderfully beneficial opportunity for my recreation and leisure students again this coming Fall semester. Enclosed for your reading enjoyment are several copies of reports prepared by my students describing their aerobatic experiences. Have a great Summer!"
William Finch
Lecturer of Leisure Studies
California State University, Sacramento
•
"On behalf of the Orangevale Chamber of Commerce Board of Directors and members, I would like to extend to you our sincere appreciation for the generous donation of an acrobatic plane ride.  Your gift was a real bonus to our "special raffle" drawing, to aid the Orangevale Ponyball League in purchasing gifts for visiting teams, for the Ponyball World Series, of which, their Bronco division was participating in."  
Laurie Deshields
President
Orangevale Chamber of Commerce
•
"To thank you for the trill of a lifetime!  Since the age of five I dreamed of doing what we did on Thursday.  One day I plan to be able to do it myself in my own Eagle, and confirmed for me I truly do love aerobatics.  Mere words do not do justice to how I feel about your willingness to reach out and offer to do that for me, so from the depths of my being I will simply say you touched my heart. 
"Thank you for being you."  
Don
•
"Dear Mr. Riordan
I'm sorry it's taking so long for me to write you and thank you for what you did for us. I am Lisa and Gilbert's cousin. I want to thank you so much for making it possible for our daughter Melissa to be able to talk to Big Bird while she was ill. I'm so glad that you could do such a nice thing for us. We don't know each other but, maybe someday we will be able to thank you in person. The day Big Bird called we made it a special day for her. The nurses bought her a big bird cake and balloons. Melissa was very ill, I'm so glad that she got to hear Big Bird talk to her. Melissa got to go home the 25th of January only because she wanted to go home and she wasn't getting any better. On January 26th Melissa passed away in our home. I'm so thankful that you made it possible for her to have that special wish come true. We are so grateful.
Thanks again."
Mr. & Mrs. Rutilo and Teresa Mundo
•
"Dear Jim:
"What a wonderful Women's Center supporter you are!  We're delighted to have your donation of a "Thrilling Stunt Flight" for our tenth annual auction."  
Haley Seif
Executive Director
El Dorado Women's Center
---
resume | community involvement | accomplishments | author | inventions, trademarks & patents | hobbies
---