About Us / BIO OF JAMES F.  RIORDAN
---
resume | community involvement | accomplishments | author
inventions, trademarks & patents | hobbies
---
Riordan developed the Inventrepreneurs "
Path to Profit
" flow chart poster which details all of the steps that go into the development and marketing of a new product. Patent office personnel have called it "the finest one ever developed". The President of a Fortune 500 company called it "a remarkable achievement" and said, "our MBAs regard it as a valuable tool".  
Author
of the now widely acclaimed and leading publication on evaluation of new products and technologies entitled "
How To Evaluate The Potential For Success Of A New Product Or Technology
", a unique 36 point system which clearly shows how to spot potential moneymakers and how to avoid losers. The book and the system are being used by fortune five hundred companies to streamline their product development programs. 3M is using the evaluation system in six divisions and calls it "the best they have seen." Individual inventors use the system to help determine whether their ideas are worth pursuing.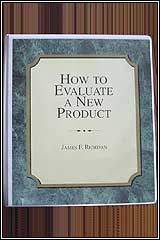 Jim's course on product
evaluation published by the
American Management
Association.
Author
of "How To Evaluate a New Product," an ongoing education course published by the American Management Association (AMA)  
Author
of "
A Systematic Approach To New Product Development
," a paper on the management methodology of "automating" the product evaluation process.   
Author
of "
The T.E.A.M.  Program
" a complete technology evaluation and acquisition management system designed specifically to help mid sized to large companies experience faster product to market cycles, develop a consistent flow of new product ideas and benefit from ideas they previously would have shelved.    
Author
of "Mutual Gain Leadership," which shows leaders how to achieve maximum productivity by encouraging and helping their people to experience on-going personal growth and achievement on a day-to-day basis. The team members win, the leader wins and the company wins.  
Author:
James F.  Riordan has written articles for many publications and news services including UPI. 
Co-Author
of "Identifying and Obtaining Your Dream Career" which walks you through a proven process designed to help you identify the types of careers best suited to your needs and values and then shows you how to land your dream job. Unlike many typical "self evaluation" tests or programs given by management recruiters, this system was developed by Howard Riordan and James Riordan to approach this serious and sometimes life changing process from the job seekers point of view rather than the employers view. It is simple, it works and it's been used successfully, proven and improved in over fifty years of practical application.  
Author and Designer
of campaign tabloid newspaper for the successful election campaign of Lou Blanas for Sacramento County Sheriff.  Designed and published the Sacramento County Sheriff's employee newspaper,
"Off The Cuff."  
Author and Designer
of campaign materials for other political campaigns.
Author and Designer
of numerous "advertorial" publications.  
---
resume | community involvement | accomplishments | author | inventions, trademarks & patents | hobbies
---